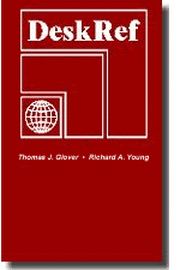 Soft Cover: EAN & ISBN: 978-1-885071-60-6; UPC: 769344-00076-2
Library of Congress Catalog Card Number: 2010902213
Desktop edition: 6" x 9"; 1280 pages
Weight Soft Cover: 2 lbs.11oz. Hard Cover: 2 lbs. 6oz.
Soft Cover: Cranberry Red Lexotone
New and Updated Sections:

Air and Gases -Explosive Limits of Gases and Vapors-New
Automotive Trailer Wiring and Connector Guide -- Updated images
Chemistry and Physics
Element and Element Property Tables -- Updated
Periodic Table of Elements --. Major Update
Elementary Particles -- Updated
Computer ASCII and ALT Codes -- Major Update
First Aid- Priorities --Updated
CPR -- Updated
Mouth to Mouth Breathing -- Updated
Hypothermia -- Updated
Poisoning --Updated
Small Animal Artificial Respiration and CPR -- New
Blood Type Distribution in the USA --New
Holidays --Updated
American Sign Language -- New
Military Rank and Grade – Air Force, Army, Navy, Marines --Updated
State Population --Updated
North American Area Codes -- Updated
Worldwide Area Codes -- Updated
Dialing Instructions for Countries -- Updated
Airports USA -- Updated
Major World Airports -- Updated
Airline Two Letter Codes --Updated
Airline Toll-Free Phone Numbers --Updated
Lost Credit Card Phone Numbers -- Updated
Car Rental Phone Numbers -- Updated
Country Codes – 2 and 3 Letter -- Updated
General Science - Body Mass Index – CDC, Atlanta GA -- New
Fuels and Combustion Temperatures -- New
Flame or Material Color Combustion Temperatures -- New
Animal Names – Groups, Male, Female, Baby --New
Geology - Gold, Silver and Diamond Classification -- Updated
Earthquakes – The Largest and Deadliest --New
Volcanic Explosive Index --New
Money - Currency Exchange Rates -- Updated
Pumps and Tanks - Capacities of Large Tanks and Cylinders -- New
Propane Tank Sizes -- Updated
Surveying and Mapping -Magnetic Declination Map -- Major Update
Weather -Dew Point Tables C and F -- New
Welding -SMAW Electrode Amperages -- Major Update
SMAW Electrode Amperages -- Major Update
SMAW Electrode Amperages -- Major Update
SMAW Electrode Amperages -- Major Update
Electrode Brand Conversion --Major Update

Reviews:

---

Marine Corps Gazette, Lt.Col. David L. Shelton
"Even in the digital age, one often finds that locating a necessary statistic, mathematical formula, standard conversion ratio, scientific fact, or technical specification, with precision and right when it's needed, can still be a challenge. This can be particularly vexing for those who conduct technical work in remote or undeveloped locations, or who may not have ready access to electronic research capabilities or bulky reference publications....Pocket Ref..packs a wealth of scientific technical, formulaic, and specification information into a compact ...543 pages....must rank as one of the most complete guides of its kind available anywhere....This pocket reference is a gold mine of information and readily accessible detail for all Marines, whatever the military occupational specialty...The book is handy, precise, succinct, and worth many times its size and weight in resource information. Pick it up and don't leave home without it.

"Rick Yates, Village Hardware, Albion CA
"All your brains between 2 covers!"

Reactive Metals Studio, Inc.
"...pages of tables, maps, formulas, constants and conversions in a 'fit in your pocket'...book. Data on almost everything you can think of: air, automotive, carpentry, electrical, math, hardware, geology, plumbing, planets, weights and measures and much, much more. Everyone should have at least one copy.

Real Goods, Winter Solstice
"This amazing book ...is like a set of encyclopedias in your shirt pocket! Hundreds of tables, maps, and charts for: battery charging, lumber sizes & grades, floor joint span limits, insulation R values, periodic table, computer ASCII codes, IBM PC error codes, printer control codes, electric wire size vs. load, resistor color codes, US holidays, Morse code, phone area codes, time zones, sun & planet data, earthquake scales, nail sizes, geometry formulas, currency exchange rates, water friction losses, and a detailed index! Have we said enough? Indispensable!"

Say You Saw It in CQ,
"Pocket Ref, a tiny but fact-packed, shirt-pocket handbook of tables, maps, formulas, constants, and conversions. The book included a wealth of information in the electrical, automotive, physical science, mining, welding, and other fields...an excellent reference...."

J. Baldwin, Whole Earth Review
"It's fun to challenge this shirt pocket-size all-purpose reference of stuff you need to know now and the but don't know where to look.....How about map scales, military rank and grade, geologic time scale, trig functions, conversation tables...You need one of these. Me, too. It's joined my library right next to the dictionary."

Bill Welsh, Bill's Basics
"...This book contains information helpful to engineers, handymen, students, and travelers. It includes a lot of material that is of interest to amateurs. Its 18-page index enables you to easily locate data...."

Popular Mining
It's hard to believe how so much information could be squeezed into such a small package....and as a result Sequoia Publishing, Inc. has printed one of the most valuable small reference books we've been able to find....The scope of subjects is so diverse it makes it difficult to select which one to check out first. ....This is such a handy type of reference book you may find you'll need more than one. If you leave it home, you may find that you could have used another copy in the car, or at the mining site, or wherever...."