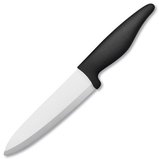 Introducing one of the world's most advanced razor-sharp knives. You'll be a believer from the very first cut!Stronger & superior to any steel knife. High tech at a low price. Lightweight and perfectly balanced. Ultra sharp ceramic blade can cut any food.

This professional paring knife has a high tech ceramic blade that is harder than steel. This superior material means it will stay super-sharp for years, won't rust and won't absorb stains. This knife has a recessed handle and a non-stick surface for easy cleanups.

Blade length is 6", and perfect for slicing tri-tip, ribs or your favorite BBQ Meat. Overall length: 11". Wt.: 0.3 lb.

CAUTION! This knife is VERY sharp and is not for children.